Parts/Accessories: 8-String Necks
Contact Novax for availability.
Novax® Necks
Get the FANNED-FRET® Advantage
The Charlie Hunter 8-String Neck


The Novax® Fanned-Fret® Charlie Hunter 8-string neck provides experienced luthiers the opportunity to create their own version of this unique instrument designed by Ralph Novak and Charlie Hunter.
Three bass strings/Five guitar strings
Build an 8-string guitar with real, deep bass and sparkling guitar tone.
Balanced string tension
Thanks to the patented Fanned-Fret® design, string tension is balanced and natural across the entire neck.
Consistent response along the entire neck
Even with this extended range each string speaks with a unique harmonic voice.
A low E-string scale length of 28-3/4 inches
Your 8-string will have rich, deep bass on the same neck that sports a Fanned-Fret® guitar.
Ebony Fretboard
22 jumbo frets and pearl dot markers
Graphite reinforcement
2 embedded carbon fiber spars provide stability and strength.
Accepts 3 bass and 5 guitar tuners
Truss rod adjustment at the head for convenience and accuracy
Price (US): $1600.00
Prices do not include shipping.
ALL NOVAX® NEX HAVE A ONE YEAR GUARANTEE


Dimensions show neck pocket requirements. Pocket depth is 11/16"
Proprietary Novax® Individual Bridge System
Designed for use with the Novax® Charlie Hunter 8-string neck, this bridge system delivers amazingly clear tone and minimizes string crosstalk.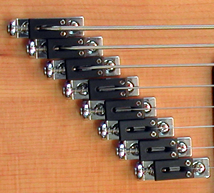 Novax® proprietary bridge system
Chrome: $260.00
Prices do not include shipping.
Yes, you can build instruments using our Nex and parts.
REPAIR SHOP AND LUTHIER INQUIRIES WELCOME
VISA and MasterCard accepted
ALL NOVAX® NEX ARE MADE IN USA