Instrument Models
specifications and examples of available builds
The Novax XR 6-string
XR means eXtended Range and only Novax® with the patented Fanned-Fret® design can offer you this range with clarity, accuracy and rich tone. The patented Fanned-Fret® system is the only way to achieve the balanced tone and amazing tuning accuracy that defines the XR.
Ralph Novak set out to build the monster 6-string. This guitar would be a bit bigger and have a HUGE tone. A guitar that could deliver a real, tight, low "C" in the bass, with the playability of a standard guitar in the treble. BIG bass. SWEET treble. See and hear this guitar being played on John Mayer's DVD Any Given Thursday.
The hand made Novax XR can now be your number one ax. Novax is offering this hand made masterpiece to players who demand excellent performance across a wide range of tunings.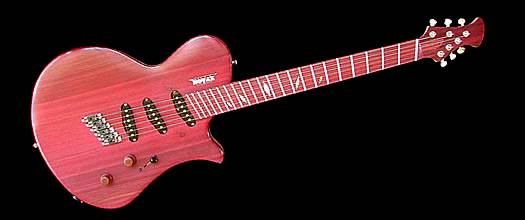 Body wood Purple heart top with maple back
Neck Purple heart fretboard, maple neck, purple heart headstock overlay
Finish Clear
Electronics 3 single coil passive Vintage Vibe pickups with 5 way selector
Hardware Chrome, Exclusive Novax® individual bridges, Graph Tech saddles



Price: $3850.00 with DIAMOND INLAY (click for details), $3400.00 without inlay (US). Hard shell case included. Shipping not included.

To review our 1-year guarantee and see all the guitars we currently have in stock, please see our Showroom page

Novax® accepts VISA and MasterCard

ALL NOVAX® GUITARS ARE MADE IN USA